Skin that pulls: say stop!
The skin of the face is fine and particularly exposed to the sun and the bad weather which favor its dryness.

Especially if you are very active and often outdoors ...


1 FEMME SUR 4 complains

Tearing, sensitivity, discomfort ... having dry skin is not a fatality.

To soothe the fragile epidermis, we must rely on hydration! Like cleaning, it is essential to preserve beauty and suppleness of the skin.
+ 70% synthesis of structural proteins, for a younger skin

To restore skin balance by protecting it from external influences, EffiDerm® Face treatment uses a revolutionary natural active ingredient, CellRepulp® Complex, an exclusive plant concentrate.

Elaborated from an extract of Ginkgo Biloba rich in active substances and a extract of White Lupine rich in glutaminous peptides and oligosaccharides, it protects the skin thanks to its anti-free radical action, promotes microcirculation and oxygenation to illuminate Complexion, limits dehydration and tones, plumps, deepens support tissue, for younger skin.
Moisturizing fluid cream




    EffiDerm® Moisturizing Fluid Cream

Enriched with hyaluronic acid, it stimulates the natural process of hydration and improves the barrier function of the skin.

Its formula based on CellRepulp® Complex, an exclusive plant active, rebalances the cutaneous hydrolipidic film.

Creamy and fluid, it provides a refreshing freshness and is suitable for all types of skin.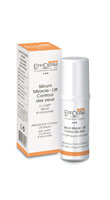 SERUM-MIRACLE-CONTOUR

    THE TIP IN ADDITION! EffiDerm® Eye Contour Miracle-Lift Serum

This serum combines the best active ingredients to protect the particularly fine and delicate epidermis of the eye contour. Osilift®, a purified oat extract, has a proven tightening and lifting effect on the crow's feet.

Extracts of Blueberry and Hamamelis decongest and soothe fragile or irritated eyes. Ferment extract from the Antarctic has proven cryoprotective, restructuring and anti-wrinkle properties. The extract of Green Tea exerts a synergistic anti-aging action thanks to its antioxidant properties.

Wrinkles and fine lines fill, fatigue marks such as pockets and dark circles fade, the skin is hydrated, firm, the look is smoothed and its youth preserved.


THE EXPERT'S WORD: ALINE CHORETIER Professional aesthetic and sporting high level.

No skin is immune to dehydration!

 Aline Choretier

All skin can be dehydrated, some external factors or age can accelerate this process.

When the skin dehydrates the exchanges are done less well between the different skin layers which makes it more fragile and more sensitive.

A mechanism that must be reversed! Extremely moisturizing EffiDerm® Moisturizing Fluid Cream easily penetrates and acts in depth.

It enhances the freshness of the complexion. Its richness in active ingredients and in particular extracts of White Lupine, Ginkgo Biloba and hyaluronic acid, improves the elasticity and tone of the epidermis, the skin is hydrated, smoother, firmer, the oval face redesigned!